Teriyaki Marinated Baked Pork Chops
2013-04-20
Average Member Rating
(3.9 / 5)
14 people rated this recipe
Yield :

4 to 6 pork chops

Servings :

4 to 6

Prep Time :

5m

Cook Time :

30m

Ready In :

35m
Nutritional Info
This information is per serving.
Calories

293

Calories from Fat

179

Total Fat

19.9g

Saturated Fat

7.5g

Cholesterol

69mg

Sodium

656mg

Total Carbohydrates

8.8g

Sugars

7.7g

Protein

18.8g

Vitamin A

1%

Vitamin C

18%

Calcium

3%

Iron

6%
This baked pork chops recipe adds a sweet and tangy taste by marinating the meat first in an Asian inspired marinade.
The marinade is an easy mix of soy sauce and orange juice.
It also has a bit of honey for sweetness and ginger for tang.
Ingredients
4 or 6 boneless, pork loin chops or bone-in chops, cut to 1 - 1 1/2 inches thick
1/2 cup orange juice
1/4 cup soy sauce
1/4 cup water
2 tablespoons honey
1/2 teaspoon chopped fresh ginger (or ground ginger if you prefer)
Method
Step 1
Combine all ingredients except pork chops in a non-metallic container (a glass baking dish or zip lock plastic bag both work well). Stir well and add pork. Marinate for 2 hours at room temperature or overnight in the refrigerator.
Step 2
Remember, the longer the pork marinates, the better the flavour.
Step 3
Preheat oven to 350°F.
Step 4
Cook pork for approximately 30 minutes (depending on thickness) or until chops are done.
This is mix of flavors that works really well together.
I love dinners that come together easily like this one. A few minutes of preparation, let it sit in the refrigerator for a while and pop it in the oven. An easy dinner recipe at its best.
Here's a great idea: Roast vegetables along side the chops and create an easy 2 pan oven meal.
And use the leanest chops you can get to lower the fat content.
If you like this recipe, I'd love you to Pin it to Pinterest, Tweet about it, Like it on Facebook and leave a comment below. Thanks.
Sign up here and be the first to get new recipes and tips.
Look here for a roasted vegetable recipe that will be perfect with these chops.
This baked pork chops recipe is just one of our tasty pork recipes. Find them all here.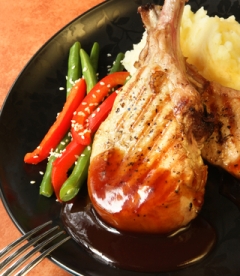 ---