Hamburgers are a favorite of both Canadians and Americans year round, but there is nothing quite like grilled hamburgers.
This is a very tasty hamburger recipe, with lots of variations.
Although this recipe is for beef burgers you can use any mix of ground meats for hamburgers. A mix of beef and pork is nice. The pork is a softer meat than beef and the tastes work well together. Turkey or chicken are lean and healthy choices.
You can buy ground beef in varying grades.Those with less fat are seen as healthier, while the slightly more fatty beef has a bit more flavor.
With this recipe though the meat is quite flavored by the seasonings you add, so flavor is not an issue. Use as lean a meat as you wish.
I like to add egg and bread crumbs to the meat as I think it stays together well and it adds moisture to leaner grades of beef.
You can make them without if you prefer, but give it a try with the egg and bread crumbs. You might quite enjoy it, as I do.
I have included these hamburgers in our selection of diabetic recipes because they are fairly low carb without the bun. Use a whole wheat bun if you use one, but try it without the bun. Serve veggies and salads alongside.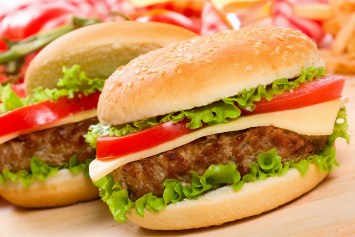 Hamburgers
This is a very tasty hamburger recipe, with lots of variations. Hamburgers are a favorite of both Canadians and Americans year round, but there is nothing quite like grilled hamburgers.
Ingredients
1

pound

ground beef

1

egg

,

optional

1/2 - 3/4

cup

bread crumbs

,

optional

2

tablespoons

green pepper

,

finely chopped, optional

1

tablespoon

dried onion flakes

1

tablespoon

prepared horseradish

,

optional

2

teaspoons

Worcestershire sauce

hot sauce

,

a few drops, optional

2

teaspoons

mustard

1/2

teaspoon

chili powder

1/4

teaspoon

salt

1/8

teaspoon

pepper

cheese slices

Whole wheat hamburger buns
Instructions
Combine the first 11 ingredients and mix well. (The egg and bread crumbs are optional. I like it with them because they allow the meat to stay together better). Shape into 4 very large patties or 5 smaller patties.

Place the patties on a grill over medium coals and grill 4-5 minutes on each side, or until desired degree of doneness. Top with cheese for the last minute of cooking.

Serve in buns with your favorite condiments and toppings.
Nutrition
Calories:
457
kcal
Carbohydrates:
28
g
Protein:
26
g
Fat:
26
g
Saturated Fat:
9
g
Trans Fat:
1
g
Cholesterol:
121
mg
Sodium:
579
mg
Potassium:
463
mg
Fiber:
2
g
Sugar:
3
g
Vitamin A:
157
IU
Vitamin C:
6
mg
Calcium:
104
mg
Iron:
4
mg
Suggested Hamburger Toppings:
Mustard
Relish
Cheese
Pickles, dill or bread and butter
Ketchup
Sliced tomato
Sliced or chopped raw onions
Sliced hot peppers
Mayonnaise
Lettuce
Guacamole
Cooked bacon slices or back bacon
Roasted peppers
Barbecue sauce
Cooked sliced onions
Fried egg
Fried onions
Teriyaki sauce
Hot sauces
Variations:
Fancy up your burgers. Put a small cube of cheddar or blue cheese in the middle of the patty as you make it, then shape the patty all around it so the cheese is well hidden. Grill as directed. When the hamburger is eaten the gooey cheese inside will be a nice surprise.
As stated above you can use a mixture of ground meats instead of all beef. Try a mix of beef and pork, or beef, pork and veal.
Wild game meats also make a great hamburger recipe. They are naturally lean and full of flavor. If you have access to that kind of meat, try it.
Of course you can also make bbq hamburgers out of ground chicken or turkey. They do need extra moisture added though, so you may want to look at adding a bit of water or milk.
For something even healthier use ground chicken or turkey and serve the burgers on whole wheat buns.
Look here for a recipe for beer battered onion rings, a favorite with hamburgers.
Hamburgers are a favorite for summer grilling. Try out beer can chicken for another tasty treat from the grill.

Subscribe to the site here and never miss a great recipe.