Homemade Meatball Recipe: Paprika Meat Balls
2013-07-12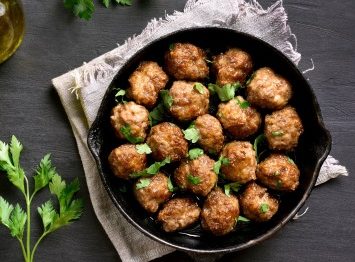 Average Member Rating
(5 / 5)
12 people rated this recipe
Servings :

4 or 10

Prep Time :

10m

Cook Time :

5m

Ready In :

15m
Nutritional Info
This information is per serving.
Calories

233

Total Fat

7.4g

Saturated Fat

2.7g

Cholesterol

101mg

Sodium

115mg

Total Carbohydrates

4.6g

Dietary Fiber

1.3g

Protein

35.2g

Vitamin A

18%

Vitamin C

8%

Calcium

1%

Iron

123%
This homemade meatball recipe can serve two purposes. It can be a savory main course or a great meatball appetizer.
It is simple to make but quite tasty.
Who doesn't love meatballs?
Paprika Homemade Meatball Recipe

Ingredients
1 pound minced (ground) beef
1 onion, finely chopped
1 teaspoon of ground cumin
1 tablespoon of paprika
1 tablespoon of garlic
salt and pepper to taste
Method
Step 1
In a bowl, mix the meat, garlic and onion, salt and pepper. Then add the cumin and paprika. Mix together thoroughly. Make small meat balls with the mixture.
Step 2
Fry the garlic in a pan lightly, then cook the meat balls on all sides.
Tip:
I would take the garlic out after it cooks so it doesn't burn. Burned garlic doesn't taste very nice.
This recipe for meatballs serves 3 to 4 as a main course or serve as an appetizer with a dipping sauce.
Make this recipe even healthier by using lean ground beef.
This is a good recipe for diabetics. It's also gluten free.
This fantastic recipe was originally was shared with us by member Terry de Brugiére from France.
If you like this recipe, please share it on social media. Thanks.
Subscribe to the site here and never miss a great recipe.
If you love this homemade meatball recipe you will find many more great recipes for meatballs here.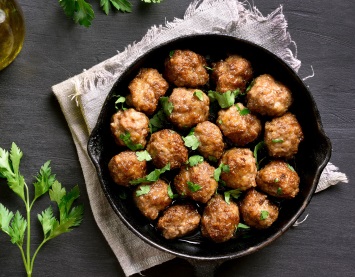 ---