Meatloaf Recipe: Quaker Oats Meatloaf
2013-05-12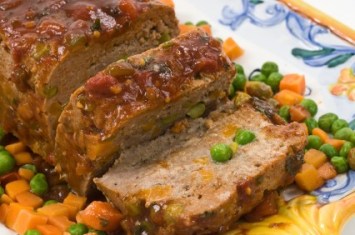 Average Member Rating
(4.2 / 5)
25 people rated this recipe
Servings :

6 to 8

Prep Time :

10m

Cook Time :

45m

Ready In :

55m
Nutritional Info
This information is per serving.
Calories

291

Calories from Fat

82

Total Fat

9.1g

Saturated Fat

3.3g

Trans Fat

0.0g

Cholesterol

133mg

Sodium

153mg

Total Carbohydrates

12.2g

Dietary Fiber

2.1g

Sugars

1.6g

Protein

38.1g

Vitamin A

10%

Vitamin C

14%

Calcium

5%

Iron

29%
This delicious Quaker Oats meatloaf recipe adds the taste and nutrition of oats to bind the ingredients together.
It's a very tasty variation on the classic meat loaf.
Meatloaf Recipe with Oats

Ingredients
1 egg
1/4 cup milk
1 cup uncooked, non-instant oatmeal or oats
1 1/2 pounds lean ground beef
1 medium onion, chopped
1 teaspoon dried thyme
2 tablespoons Dijon mustard or 1 teaspoon mustard powder
1/2 cup chopped parsley, flat leaf if possible or 3 tablespoons dried parsley
Salt and pepper
Method
Step 1
Beat egg and add milk. Mix together. Pour over oatmeal and soak for 30 minutes.
Step 2
Preheat oven to 350°.
Step 3
After oats have been soaked add the rest of the ingredients and mix well. Put into a loaf pan or form into a loaf and place on baking sheet.
Step 4
Bake for 35-45 minutes or until brown and crusty on the outside.
Variations:
This recipe can be cooked in the microwave, although I prefer it baked in the oven. Place in a glass or other microwave safe baking dish (non metal) and cook on high for 16 to 20 minutes. Rotate every 5 to 7 minutes if your microwave does not rotate. Let loaf rest for 5 minutes before serving.
The top of the meatloaf can be covered with 1/2 cup tomato sauce or ketchup if desired for added flavor.
Not only is this recipe a tasty one you can probably get the kids to eat, it's also healthy.
Oats are an extremely nutritious food and one of our 10 healthiest foods to eat. The addition of oats adds to this recipe being a good diabetic recipe. Oats have fiber and are extremely healthy for us.
Find out why oats are so good for us here.
After tasting this meatloaf recipe, you'll want to try more delicious and nutritious Quaker oats recipes. You'll find them here.
Don't forget to Sign up here for site updates and never miss a great recipe. (It's free)
If you like this recipe, I would really appreciate it if you share it on social media. Thanks.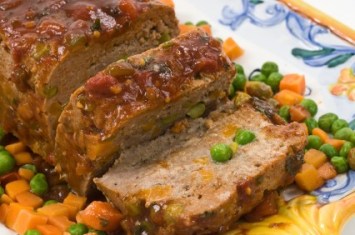 ---