Noodle Casserole with Cheese and Bacon
2020-10-06
Average Member Rating
(4.3 / 5)
3 people rated this recipe
Servings :

8

Prep Time :

20m

Cook Time :

30m

Ready In :

50m
Nutritional Info
This information is per serving.
Calories

238

Total Fat

14.9g

Cholesterol

42mg

Sodium

645mg

Total Carbohydrate

13.6g

Dietary Fiber

0.6g

Protein

12.2g

Vitamin D

0mcg

Calcium

76mg

Iron

1mg

Potassium

186mg
This noodle casserole is an old European recipe that deserves to be enjoyed today. It's one of my easy dinner recipes, the kind of food I crave when I want comfort food.
Noodle casserole recipes are common in Eastern European countries. This version comes from Hungary. I don't have many Hungarian recipes on the site, but I sure want more if they are as tasty as this one.
I love taking recipes from around the world and putting them on my own table to enjoy with friends and family.
There is a lot we can learn from cooks everywhere about their traditions and how they create deliciousness with the foods they have on hand. I love learning about other culture's food traditions as I cook something new to me.
This Hungarian noodle, bacon and cheese casserole can be served as an accompaniment to meats or poultry or enjoyed as the center of the meal.
It's very easy to prepare and can be ready for the oven in about 15 minutes. Of course I love recipes that just sit baking in the oven for a bit, leaving you free to do other things.
Noodle Casserole with Cheese and Bacon
Ingredients
6 to 8 slices bacon
8 ounces wide noodles (or pasta shape of your choice)
1 1/4 cup sour cream
1 cup cottage cheese
1/3 cup onion, minced
salt and pepper to taste
1/3 cup bread crumbs
butter for the casserole dish
Method
Step 1
Cook the noodles. Drain them and set them aside.
Step 2
Cook the bacon until it is crisp. Drain it on paper towels. Crumble the bacon and set it aside.
Step 3
Preheat the oven to 350°F.
Step 4
Mix the cooked noodles, sour cream, cottage cheese, bacon pieces and onion. Season it all with salt and pepper and spoon it into a buttered casserole dish. Sprinkle the top of the casserole with the bread crumbs.
Step 5
Bake for about 30 minutes.
Serves 8.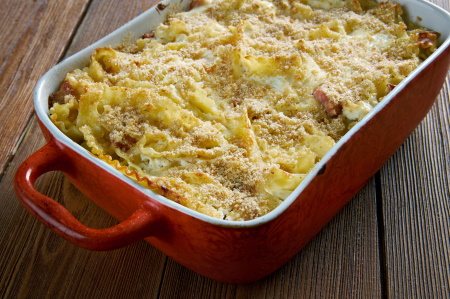 For Vegetarians:
It's so easy to make this into a delicious vegetarian casserole. Just leave out the bacon entirely! That's it. Enjoy the protein packed casserole vegetarian style.
This casserole recipe may be simple, but it packs a lot of flavor. The sour cream adds just a bit of zestiness to the dish and bakes into the soft noodles.
I have used a curly edged pasta type noodle for this recipe, but you can use egg noodles, or even short pasta like penne or rotini (the spiral shaped pasta). Any of them would be fine. Noodles are just the traditional shape that is used.
Sign up here for site updates and never miss a great recipe!
If you like this noodle casserole, try our tuna noodle casserole, with a bit of a twist.




If you like this recipe, please take a moment to Pin it to Pinterest, Tweet about it, Like it on Facebook and leave a comment below. Thanks a lot.
---