Orange carrots with dill are a real treat and one of my favorite easy vegetable recipes.
Most of the time we don't do much with carrots, just boil them and add some butter and salt. That's about it.
Every once in a while we roast them, which is a definite step up in the flavor department. Look here for a great recipe for roasted carrots with thyme. But that's about it for carrots, unless you make a salad or bake them into a fantastic cake.
This recipe for carrots puts a fresh spin on these often used but seldom enhanced vegetables.
It adds a bit of butter, for flavor of course, but doesn't stop there. A little bit of fresh orange zest plus some fresh orange juice really amps the flavor of the lowly carrot.
This carrot recipe is topped off with a small amount of freshly chopped dill. It's amazing what just a little bit of herbs can do to change the flavor of a recipe.
The dill really brightens up these carrots.
If you don't have fresh dill you can replace it with dried dill. I would use about 1/2 the amount (or less) of dried dill. The dried dill needs to be "woken up" a bit so I would warm it in the butter before you mix in the carrots and orange juice and zest.
If you are not a dill fan at all, of course you can use another herb in it's place. Fresh herbs are going to work best, and they have the added benefit of being super healthy for us.
If you really need to replace the fresh dill with something else, try chopped thyme or parsley. It may even work well with a little jolt from some freshly chopped cilantro. Obviously all of these herbs will change the taste of the final product but if you like it, go for it.
I always use a good quality butter in my cooking, rather than margarine. If you are a margarine fan, that's fine, but to me there is nothing like the taste of real butter in cooking. And in a simple recipe like this with few ingredients, the butter really shines and makes a difference.
A Zesting Tip for Your Orange Carrots
Here is an important tip for this carrot recipe. The recipe calls for both orange juice and orange rind or zest.
Newer cooks might not be familiar with zesting, what it means and how to do it. Zesting is a word that applies to citrus fruit, usually oranges, lemons and limes. It involves grating the fruit to remove the colored outer layer of the orange.
When you rub the orange against a grater on a finer grating edge, you get small bits of orange rind, or zest. The trick to zesting it to just remove the orange rind and stop before you grind the white pith of the orange.
The white pith just under the colored part of the rind is very bitter and won't enhance the flavor of your recipe at all. So just the orange part please.
There is an order to zesting and juicing as well.
Zest the orange first to remove the rind. Then you can squeeze the oranges for their juice. If you do it the other way around and juice the oranges first, it's much more difficult to zest the orange or lemon.
So the "rule" to remember is always zest then juice.
Serving the Orange Carrots with Dill
It is important to cook the carrots until they are tender, but not mushy. Remember, you will also be cooking them a bit more once you add the butter, orange juice and dill, so if they are too well cooked when you begin, they will be mushy by the time they are ready to serve.
So tender but not mushy is the sweet spot with these carrots. I use a fork to check for doneness when I am boiling them.
This easy vegetable recipe can be served with so many things. I like to make sure that the colors of the dinner I serve look nice on the place and carrots add so much wonderful color. For that reason alone carrots are great served with a green vegetable like broccoli or green beans.
These flavorful orange carrots would be wonderful with any plainer baked or roasted meat like chicken or beef. They go well with either potatoes or rice, so either would be great as another side dish.
This recipe for dill and orange carrots also looks nice made with whole tiny carrots.
It's a great vegetarian recipe and would work really well as part of a vegetarian meal too.
This recipe is gluten free and also works well for diabetics and vegetarian diets.
If you make it, please take a moment to let me and others in the Cookingnook.com community know how it worked out for you. Just use the comment section below the recipe.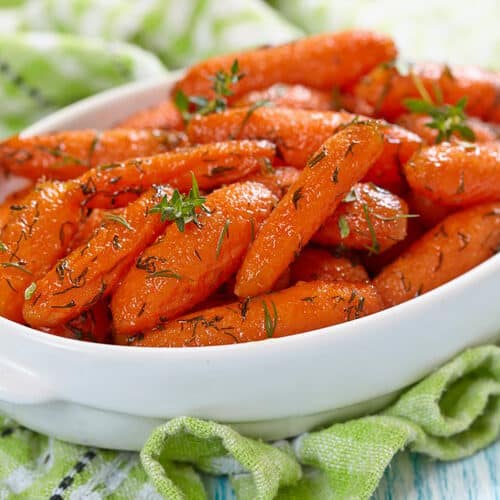 Carrots with Orange and Dill
Sweet orange carrots, flavored with orange juice, orange zest and fresh dill.



Ingredients
2

cups

carrots

,

peeled and sliced or whole carrots, peeled

1

teaspoon

salt

,

divided

2

tablespoons

butter

1/2

teaspoon

fresh dill

,

finely chopped

1/2

teaspoon

orange zest

,

grated

2

oranges

,

medium, juiced
Instructions
Place the carrots in a medium saucepan with 1 cup of water and 1/2 teaspoon of salt. Bring the water to a boil, cover and simmer for 10 minutes, or until the carrots are tender but not mushy. Drain the carrots well.

Add the remaining 1/2 teaspoon salt, butter, dill, orange juice and orange zest. Warm the mixture and stir it over low heat for one or two minutes.

Place in a serving bowl and serve hot.

This recipe makes 4 servings, but can easily be multiplied to feed as many as you would like.
Nutrition
Calories:
110
kcal
Carbohydrates:
14
g
Protein:
1
g
Fat:
6
g
Saturated Fat:
4
g
Polyunsaturated Fat:
0.3
g
Monounsaturated Fat:
2
g
Trans Fat:
0.2
g
Cholesterol:
15
mg
Sodium:
682
mg
Potassium:
337
mg
Fiber:
3
g
Sugar:
9
g
Vitamin A:
11625
IU
Vitamin C:
39
mg
Calcium:
51
mg
Iron:
0.3
mg
If you love these orange carrots, you will also want to look at our ginger carrot recipe here.
Look here to browse all of our delicious vegetable recipes.

Subscribe to the site here (it's Free!) to make sure you never miss a great recipe again.
If you like this recipe, please take a moment to share it on your favorite social media. You can add your comments below. Thanks a lot. I really appreciate it.