Salmon Mousse Recipe
2013-05-19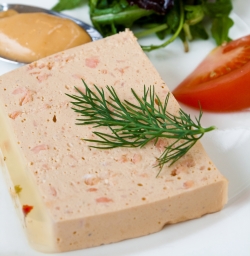 Average Member Rating
(4.5 / 5)
10 people rated this recipe
Servings :

10 to 12

Prep Time :

10m

Cook Time :

0m

Ready In :

10m
Nutritional Info
This information is per serving.
Calories

147

Calories from Fat

90

Total Fat

10.1g

Saturated Fat

3.8g

Cholesterol

23mg

Sodium

346mg

Total Carbohydrates

6.7g

Sugars

3.6g

Protein

7.7g

Vitamin A

7%

Vitamin C

13%

Calcium

9%

Iron

5%
I think this salmon mousse recipe is one of the nicest appetizer recipes you can serve.
It is easy to make and makes a great presentation, especially if you use a nicely shaped mold.
The image above shows the recipe made in a loaf tin, which is a great shape too as it slices nicely.
Salmon Mousse Recipe

Ingredients
2 envelopes gelatin
1/4 cup cold water
1 - 10 ounce can tomato soup
6 ounces cream cheese
1 - 15 1/2 ounce can salmon, drained
3/4 cup sour cream or plain yogurt
1/2 cup mayonnaise
1 cup celery, finely chopped
1 cup green or red pepper, finely chopped
1 small onion, finely chopped
1 tablespoon Worcestershire sauce
Salt and pepper to taste
Method
Step 1
Dissolve the gelatin in water.
Step 2
While the gelatin is softening, combine the soup and cream cheese in a saucepan. Heat until the cream cheese melts. Combine it with gelatin mixture. Mix together the remaining ingredients in a separate bowl. Add the soup mixture to the bowl and stir to mix together well. Pour it all into a mold and chill.
Step 3
To serve unmold and place on a nice serving plate. Serves 10 to 12. See notes below.
Tips:
This recipe also works really well if you replace the salmon with an equal amount of chopped small shrimp or crab. Canned crab or shrimp are fine. I have made it several times with shrimp and it is always a hit.
The number of people this recipe serves really depends on how many other appetizers you are serving and whether this is a before dinner appetizer or part of an array of party appetizers. You can serve as many as 25 or 30 people if you have other finger foods to choose from as well.
Here's a great presentation idea – Chill the mousse in small loaf shaped molds. Then when you unmold it to serve, you can cut small individual slices that look great on the plate.
I make this recipe often when I am entertaining and replace the salmon with crab or canned shrimp. I have an uncle who absolutely loves it and sits himself in front of the plate every time I make it.
Of course the salmon version is healthier. Salmon, even canned salmon, is a very healthy fish. In fact salmon has been listed on our list of 10 healthiest foods to eat.
Serve this salmon spread with your favorite crunchy crackers. Top with a few sprigs of fresh dill if you want, just because it looks nice.
This spread is also delicious served with chunks of fresh rye black bread or, for something a little different, try this amazing salmon mousse recipe on freshly made focaccia bread.
If you like this recipe, I'd love you to Pin it to Pinterest, Tweet about it, Like it on Facebook and leave a comment and your own recipes below.
Subscribe to the site here and never miss a great recipe.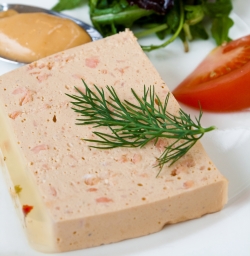 ---