These bbq beef sandwiches are both easy and delicious.
Everyone loves pulled pork. What about pulled beef? Just as yummy.
Here is a recipe for stove top cooked barbecue beef that just uses a few simple ingredients you probably have on hand. I love recipes like this that don't make me buy lots of unique ingredients that will just end up sitting in my cupboard.
This recipe is so versatile! It calls for stove top cooking, but you can easily pop it all into a crock pot to cook and I have included those instructions in the directions as well.
The nice thing about the crockpot, is you can leave the house and the bbq beef will cook along nicely while you are gone.
Here's a third option. Bake it in the oven. If you prefer to bake these bbq beef sandwiches you certainly can – well the meat anyway. Again, the directions for that are given below in the recipe.
Whether you are making stove top or crock pot bbq beef sandwiches, or baking the meat in the oven, these sandwiches are going to be delicious.
The goal of the long slow cooking of the beef is to make sure it is super tender. Cooking the meat right in the barbecue sauce will help it to become tender too.
Once the meat is cooked long and slow like this, then shredded or sliced very thinly and put back into that great sauce and cooked again for a short while, it can't help but be absolutely fabulous.
Look below for a few other suggestions.
BBQ Beef Sandwiches Need a Great Bun
These bbq beef sandwiches deserve a great bun. Instead of plain old white burger buns from the bag, try something different. A fresh crusty Italian bun, a chewy Ciabatta bun or any great bun from the bakery section of your store would be perfect. In the image above and below, the bbq beef sandwiches are on fresh whole wheat bakery buns.
If you need the bbq beef sandwiches to be gluten free, just make sure your barbecue sauce is gluten free and of course use a gluten free bun.
You can serve the sandwiches plain with just the beef, or add some fabulous cole slaw for that nice contrast of hot and cold and a great crunch.
Like it spicy? Use your favorite hot bbq sauce or just add hot sauce to this recipe.
I love the addition of the orange preserves or orange marmalade in this recipe. Who would think of putting orange jam into a recipe for barbecue beef? Well the person who gave me this recipe did, and what a wonderful idea. You don't get too much of the orange flavor. Just a hint of something different.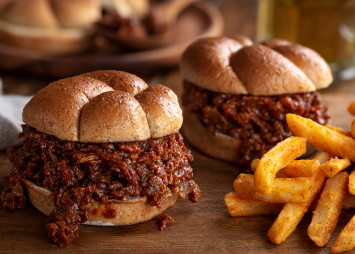 BBQ Beef Sandwiches
Here is a recipe for stove top cooked barbecue beef that just uses a few simple ingredients you probably have on hand. You can easily pop it all into a crock pot to cook too.
Ingredients
3

pounds

beef chuck roast

,

boneless, fat trimmed, cut into 4 pieces

1

cup

barbecue sauce,

of your choice

1/2

cup

orange marmalade

,

or orange preserves

1

tablespoon

Dijon mustard

2

teaspoons

brown sugar

,

packed

1

onion

,

small, sliced

12

hamburger buns
Instructions
Place the beef roast into a pot, either a stove top pot or slow cooker.

In a medium bowl, mix the barbecue sauce, orange preserves, mustard, brown sugar and onion. Pour this mixture over the beef

Cover the pot and cook on the stove, over low heat, for 7 to 8 hours. If you are using a slow cooker, set it to low and cook for the same amount of time, 7 or 8 hours.

To bake the bbq beef in the oven, set the oven temperature to about 300ºF. Place everything in the pot as directed above, then pop the pot into the heated oven and bake for several hours.

When it is well cooked and very tender, remove the beef from the pot. You can either cut the meat into thin slices or shred it with two large forks. Put the shredded or sliced beef back into the pot and stir it into the sauce. Cover and cook again on low for 20 to 30 minutes until it is all nice and hot.

Fill your favorite buns with the barbecue beef.
Nutrition
Calories:
404
kcal
Carbohydrates:
42
g
Protein:
26
g
Fat:
15
g
Saturated Fat:
6
g
Trans Fat:
1
g
Cholesterol:
78
mg
Sodium:
574
mg
Potassium:
507
mg
Fiber:
1
g
Sugar:
20
g
Vitamin A:
78
IU
Vitamin C:
2
mg
Calcium:
110
mg
Iron:
4
mg
Serves 12
If you like these bbq beef sandwiches have a look at this oven baked bbq pork recipe.
Be the first to know about new recipes and articles on Cookingnook.com. Sign up here for site updates and never miss a great recipe.
If you like this recipe, I'd appreciate it if you would Pin it to Pinterest, Tweet about it, and/or Like it on Facebook. Share your own favorite recipes at the bottom of the page. Thanks.