Here are some wonderful dinner party menus that I think you will refer to often.
I don't know about you, but I use the same dinner party recipes over and over, and I get quite tired of them myself.
I am always on the hunt for new entertaining recipes. They don't have to all be gourmet recipes, as my entertaining can be quite casual sometimes, but they do need to put great flavors on the plate.
I have put together several menus that cover everything from meat to fish and North American to European and Asian recipes.
These are more formal menu ideas, not the casual chicken wings and nachos kind of entertaining.
These recipes are perfect for when you want to have a true dinner party, with appetizers and dessert.
If you give them a try, be sure to use the form at the bottom of the page to let me (and others) know what you think.
Dinner Party Menus
Baguette Rounds with Cream Cheese and Peach Chutney
Parisienne Chicken Crepes
Green Salad with French Dressing
Chocolate Soufflé




Smoked Salmon Crepe Appetizer
French Herbed Baked Chicken
Green Beans Almandine
Bananas Foster



Crab Cakes with Garlic Lemon Mayo
Scallop and Shrimp Pasta Recipe with Lemon Cream Sauce
Mixed Baby Greens Salad with Tomatoes and Two Vinegar Vinaigrette
Lemon Sorbet



Prime Rib
Yorkshire Pudding
Oven Roasted Potatoes
Green Beans Almandine
Dessert Crepes with Fresh Blueberry Sauce



Ginger Shrimp Pot Stickers with Hot Mustard Dipping Sauce
Coconut Shrimp in Beer Batter with Sweet and Spicy Dipping Sauces
Shanghai Fried Noodles
Pavlova with Fresh Fruit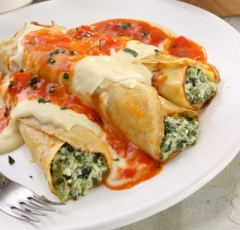 Antipasti Platter
Italian Manicotti
Caesar Salad
Lemon Meringue Pie




Crab Cakes
Coq au Vin
Duchesse Potatoes
Molten Chocolate Lava Cake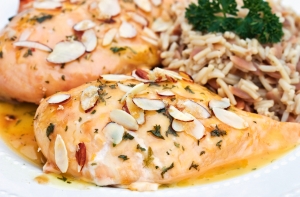 Wild Mushroom and Goat Cheese Puff Pastry
Orange Chicken
Wild Rice with Vegetables
Fresh Peach Crisp



Marinated Flank Steak
Baked Hasselback Potatoes with Cheese
Grilled Mushrooms
Chocolate Peanut Butter Pie



Crockpot Chicken Cacciatore
Pasta with Vodka Sauce
Caprese Salad
Fresh Strawberry Cake



Stuffed Chicken
Green Rice
Green Bean Casserole
Sticky Toffee Pudding Recipe



Easy Marmalade Pork Chops
Sautéed Brussel Sprouts with Toasted Pecans
Stove Top Sweet Potatoes
Apple Strudel



Mussels Diablo
Cod Adobo
Baked Tomatoes
Creamy Baked Cheesecake



Samosas with Curried Potatoes and Green Peas
Lamb Curry
Coconut Rice
Vanilla Ice Cream with Caramel Sauce



Barbecued Baby Back Ribs
Garlic and Sour Cream Twice Baked Potatoes
Grilled Corn on the Cob
Key Lime Pie



Short Ribs in Tres Chiles Broth
Roasted Garlic Mashed Potatoes
Baked Eggplant and Peppers
Chocolate Bundt Cake with Chocolate Sauce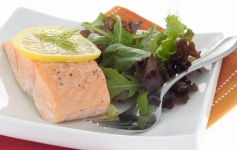 Artichokes With Lemon Butter Dipping Sauce
Poached Salmon with Basil Vinaigrette
Linguine with Alfredo Sauce
Crème Brulée

Marinated Chevre
Rosemary Roast Chicken with Two Potatoes
Baby Greens Salad with Citrus Salad Dressing
Creamy Chocolate Mousse


You will find more dinner party menus and menus for every occasion here.




Sign up here and be the first to get new recipes and tips.
If you like this page, please take a moment to share it on your favorite social media. You can add your comments below. Thanks a lot.